How Often Should Hairsprays Be Used as You Age?
Hairspray can be a lifesaver when it comes to taming frizz, boosting shine and locking in a hairstyle; however, there can be too much of a good thing. Generally speaking, using an excessive amount of any product will not work in your favor. Hairsprays are no exception, as they often contain drying ingredients that may leave your tresses brittle and dull over time.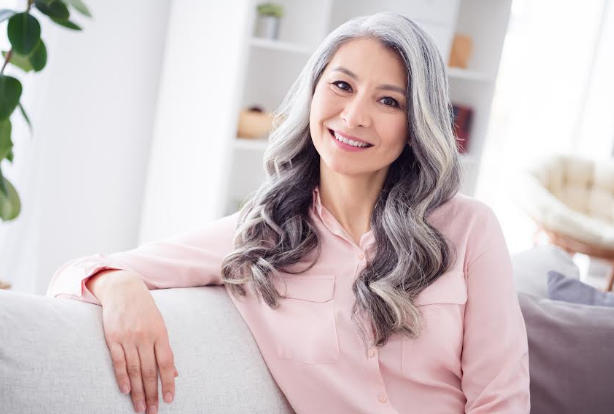 As your hair changes with age, it is important to find a natural, gentle hairspray that meets your new hair needs. Estrogen levels decrease with age, which causes your scalp to produce less sebum. A lower production of sebum may contribute to your hair becoming drier and more susceptible to damage. Although it is a common product in many hair-care routines, hairsprays must be used with caution with age. Read on to learn how often hairsprays should be used as you age.
What is Hairspray?
Hairspray is a common hairstyling product used to secure hairstyles and provide all-day hold. Whether you're in the office or enjoying a night out on the town, hairspray will help your hair keep its shape. It also protects your hair against humidity and wind and can be used to create volume. Hairsprays support fuller hairstyles, which will help thin hair appear more voluminous.
What is in Hairspray?
There are many different hairsprays on the market including ones formulized to boost shine, provide a long-lasting hold and soothe frizz. Hairspray contains active ingredients like polymers, solvents and propellants. Many hairsprays contain synthetic chemicals like parabens, denatured alcohol, benzyl salicylate and artificial fragrances. Harsh chemicals found in hairsprays can dry out your strands and lead to more extreme hair damage. Instead, look for formulas that contain natural polymers, such as starch and vegetable gum. Also keep an eye out for hairsprays with anti-humidifiers and essential oils like coconut oil and argan oil.
How Often Should Hairsprays Be Used as You Age?
Overusing any product isn't good for the scalp or hair. Using too much hairspray will create buildup and weigh down your hairstyle. Additionally, too much hairspray will limit your hair's flexibility and make your tresses feel crunchy. If you use hairspray loaded with synthetic chemicals every day, dry strands are likely to follow. Instead, consider using a gentle hairspray in moderation when needed. It's generally a safe product to use every day, however try to use it only when you spend time on a hairstyle.
Hairspray Tips
Follow these tips to become a total expert at using hairspray:
Tip #1: Apply to Clean, Dry Hair
Rid your hair of gunk and grease before applying hair spray. Give your tresses a proper wash to maximize the benefits of hairspray. Additionally, make sure your hair is dry. Applying hair spray on damp hair will not offer the best results.
Tip #2: Keep Your Distance
There is no need to be up close and personal when applying hairspray. If you apply hairspray super-close, you may end up with a greasy look. Also, you risk dispensing too much product, which may result in hardening. When misting your strands with hairspray, hold the can six inches away from your head to achieve to the best hold.
Tip #3: Spray for Volume
Hairspray has been the go-to product for decades to boost hair height. For incredible volume, spritz your hairspray in between the layers of your hair when you're locking in your look. You can also create more volume by flipping your mane upside down while spraying.
Tip #4: Try a Brushable-Hold Formula
Few things are worse than stiff, crunchy strands after using hairspray. Brushing through hair that has been sprayed with extra-strong hold is harsh on your strands. To prevent this, look for a hairspray that has a brushable hold. Brushable-hold hairspray formulas will allow you to run a brush or comb through your hair to smooth out your look.
Tip #5: Use a Tooth Brush to Tame Flyaways
Who knew a toothbrush could be used as a hair tool? When you want to use hairspray on only a small section of your hair, try using a toothbrush to do so. Mist your toothbrush with a small amount of hairspray and lightly run over the frizz or wisps around your face. You may also consider using a taming spray, like the one from Better Not Younger, which smoothes the cuticle and reduces flyaways.
Conclusion
Hairspray is a staple item in many women's hair-care regimens. From securing curls to increasing shine and calming flyaways, hairspray is a miracle worker. However, as you experience natural hair changes with age, it's important to be aware of how much and how often you use certain products. Most importantly, choose a gentle hairspray and evenly apply a moderate amount to your locks. By investing in the right hairspray and using it correctly, you can lock in your hairstyles guilt-free.