The Protein Rich food for vegetarians: Diet Plans, Benefits, and Vegetarian Recipes
Protein plays an important role in the formation of muscles and acts as a building block for the body. It helps to speed up the recovery process and provides energy to the body. People who work out in the gym prefer protein for a healthy workout session. It also boosts metabolism and is good for your bone health.
Protein lowers your blood pressure level and helps you to maintain normal body weight. It also improves appetite and reduces hunger pangs.
There are many sources of protein-rich food for vegetarians and non-vegetarians. Thus, let us take a quick look at the Protein Diet Plan and its benefits, along with some of the vegetarian recipes.
Proteins are an important component of our regular diet. They provide our muscles, cells, and other vital tissues with the growth factors that are needed to keep them healthy and functioning usually.
Protein rich food veg in india, a substantial proportion of individuals favor following a vegetarian diet plan. While thi s is an extremely nutritious diet, it can sometimes be weak in certain factors such as vitamin B-12 and proteins. It is very common in clinical practice to see vegetarians sustaining from low vitamin B-12 levels, though clinical sign suggests that people who pursue vegetarian diets have a lower frequency of developing heart disease and related complexities.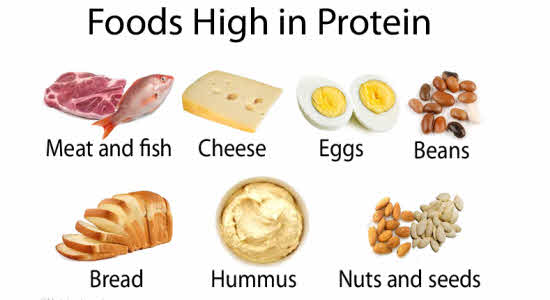 A) Protein Diet Plan (Food-sources)
1. Kidney Beans
Kidney beans, also known as Rajma, are high in protein, fiber, and carbs. When paired with rice, it becomes the classic 'Rajma chawal dish', which is the most popular dish in India, and the most liked protein-rich Indian food. Kidney beans can also be enjoyed in different salads and Mexican dishes and provide about 7.5 gm of protein per half-cup serving.
2. Cottage Cheese
Cottage Cheese (Paneer) is a staple dish in India, which is rich in protein and calcium. It not only helps to burn body fat but also keeps you fuller for a long time. It can be used in different sautéed veggies, salads, curries, and starters. It provides about 14 gm of protein per half-cup serving.
3. Mixed Seeds
Mixed seeds are high in protein and add an extra crunch to your diet plan. You'll be able to choose from different mixed seeds like sesame, sunflower, poppy, and pumpkin seeds. They are also rich in healthy fats. You can add them to granola bars, cereals, or salads, and it provides about 7 gm of protein per quarter serving.
4. Green Peas
Green peas are rich in fiber and protein. You'll also get a good amount of protein from the frozen green peas that are available. Green peas can be used in salads, curries, and sautéed gravies and provide 7 gm of protein per one-cup serving.
5. Lentils
No diet is complete in India without dals or lentils. Its a staple food and part of every meal. It is also one of the most inexpensive ways of adding protein to your diet plan. Lentils are rich in fiber and other essential minerals and can be served with roti or rice. Lentils feature in the list of high protein foods in india in India, and for every half-cup serving, you get about 9 gm of protein from lentils.
6. Milk
Milk provides 8 gm of protein per one-cup serving. It is not only rich in calcium but also rich in protein. Milk is essential for strong teeth, healthy immune function, and glowing skin. Its also fortified with vitamin D and is the best source of daily protein. 
7. Peanut Butter
Peanut butter has a balanced energy source that mainly supplies three macronutrients to the body. A small portion of peanut butter contains carbs, protein, and fat. Peanut butter comprises about 25% of protein, which makes it an excellent plant-based source. What's more, from lowering the risk of diabetes and helping in weight loss to promoting stronger bones, peanut butter also offers you many health benefits..
B) Benefits of Protein-rich Foods
1. Good for Heart Health
High protein intake can lower blood pressure and a high cholesterol level that is linked with strokes and heart attacks. Regular intake of protein can help cut the risk of heart diseases. So, include protein-rich foods in your diet, like low-fat dairy products, fish, soya beans, and lean meat.
2. Boosts Metabolism
Protein-rich foods tend to increase the TEF (thermic effect of food) which combined with other factors helps to improve your metabolic rate. This, in turn, enables you to burn more calories, helping you shed extra weight.
3. Stronger Immune Function
The body can protect itself when it has antibodies. These antibodies are specific protein types that help to detect foreign antigens. With regular protein intake, the body produces antibodies to deactivate the antigens.
4. Increases Muscle Mass and Bone Strength
Eating a protein-rich diet can help you to stay active and fit, as it prevents muscle loss, increases muscle mass, and promotes its growth during strength training. Including a good amount of protein in your diet plan can help you to maintain bone mass. Plus, it helps lower the risk of osteoporosis and arthritis.
5. Skincare
Do you know protein can repair skin tissues that suffer from wear and tear? That's right! Protein can help strengthen the collagen that is found in the skin cells, thereby ensuring your skin is wrinkle-free.
C) Protein-based Recipes
Here are some protein-rich healthy vegetarian recipes that are quick and simple to make.
1. Quinoa Paneer Cutlet: It is crispy and loaded with the goodness of protein, offering about 13 gm of protein per serving.
Ingredients:
Cooked white quinoa
Grated paneer
Veggies (mixed)
Herbs
Spices
Lemon juice
Oats flour
Oil
Method to Make:
Grate the veggies of your choice like carrot, beetroot, and cabbage. Drain excess quinoa and mix it with veggies.
Now add grated paneer, spices, and herbs of your choice. Add a dash of lemon juice to it.
Add oats flour or breadcrumbs for binding. Make cutlets of your desired shape.
Heat a flat non-stick pan and brush some oil. Now, place the cutlets and let it cook till golden brown.
When done, serve it with green chutney or sauce.
2. Grilled Tofu: Tofu is the best source of protein-rich foods for vegetarians, providing about 6.8 gm of protein per serving.
Ingredients:
Tofu
Lemon juice
Olive oil
Minced garlic
Cayenne pepper
Chilli powder
Salt
Pepper powder
Coriander
Method to Make:
Slice the tofu in slabs or cubes.
In a bowl, mix lime juice, olive oil, coriander leaves, chili powder, garlic, cayenne pepper, black pepper, and salt to taste.
Brush the tofu with this marinade and refrigerate for about an hour.
Grill the tofu on a griddle until done and do marinade occasionally while grilling.
To Sum Up,
Protein intake is important for the overall development of the body. It also protects you from various diseases. Many high protein-rich foods in India can be included in your diet, such as lentils, paneer, milk, etc. So, do include protein in your diet if you are not having enough.