Top 10 Healthy American Meal and Dessert Recipes for Weight Loss
America is considered one of the developed nations but have you wondered why it is plagued with chronic diseases such as obesity, diabetes, heart diseases and cancer? May the problem lies in the Standard American Diet that consists mainly of refined carbs, sugar and fats. Americans choose convenience over health and rely too much on packed, processed and ready to eat foods that are wrecking havoc on their health. In this article, we bring to you the healthier versions of the most popular American meal and dessert recipes that are low in calories and packed with nutrients.
10 Popular Healthy American Meal and Dessert Recipes
Grilled Lobster Rolls
Grilled lobster rolls are a classic American recipe that can be served for lunch or dinner. This version of the lobster rolls makes use of fresh lobster tail meat and whole-wheat buns instead of regular white-flour buns which makes it one of the healthy recipes for weight loss. Lobster meat is a potent source of high-quality protein that is exceptionally low in fat. Lobster also contains considerable amount of calcium and phosphorus that promotes healthy bones. Vitamin B-12 and choline in lobster meat helps to maintain healthy brain functions by supporting the production of neurotransmitters.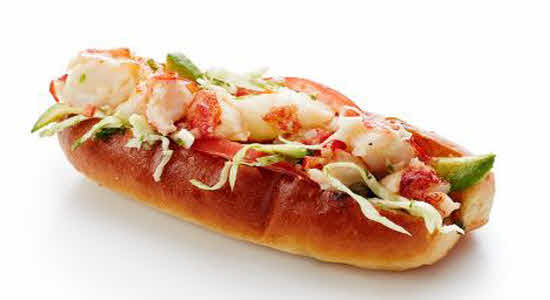 Ingredients:
2 10 to 12-ounce lobster tails

2 teaspoons extra-virgin olive oil

4 whole-wheat hot-dog buns

1 cup snow peas, trimmed

1/4 cup minced celery

1/4 cup mayonnaise

1 tablespoon minced shallot

2 teaspoons Dijon mustard

1 teaspoon chopped fresh tarragon

1/2 teaspoon ground pepper

Salt to taste

1/4 teaspoon garlic powder

2 to 3 tablespoons lemon juice
Procedure:
Preheat the grill to medium-high. Place the lobster tails on a cutting board with the soft side facing up and cut the tails into half lengthwise through the shell using a kitchen knife. Now, brush the lobster meat with oil and lay them on the grill with the cut-side down and cook until the meat is lightly roasted and the shells turn red, approximately 3 to 5 minutes. Let the lobster cool and bring some water to boil in a small pan. Cook the snow peas for 1 minute, drain and blanch in cold water. Slice the peas thinly. Now, remove the shells and chop the lobster meat. Mix the celery, mayonnaise, lemon juice, shallot, mustard, tarragon, salt, pepper and garlic powder in a bowl, add the chopped lobster and snow peas to it and mix well. Divide the mixture and stuff them into toasted buns.
Grilled Chicken and Pineapple Sandwich
Grilled chicken makes one of the best recipes to lose weight no matter in which way you have it. This grilled chicken and pineapple sandwich is a perfect quick lunch or dinner that is loaded with the goodness of chicken breasts that contain wholesome amount of high-quality protein and pineapples that are loaded with antioxidants and dietary fiber. The use of whole-wheat bread rolls instead of white bread rolls enhances the health quotient of the recipe even further.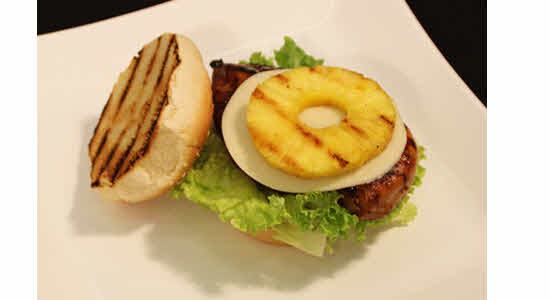 Ingredients:
4 boneless, skinless chicken breasts

4 pineapple slices

1/3 cup pickled jalapeno slices

Teriyaki sauce

4 slices Swiss cheese

4 whole-wheat Kaiser Rolls

1/2 medium red onion, thinly sliced
Procedure
Put the chicken and teriyaki sauce in a resealable plastic back and marinate in the refrigerator for 30 minutes to a few hours. Heat a grill, remove the chicken pieces from the marinade and place on the grill. Discard the excess marinade. Cook the chicken pieces for 4 to 5 minutes on one side, flip and immediately add the cheese to each chicken breast. Continue to cook till the cheese melts and the chicken in light crisp to touch. Remove from the grill and keep aside. Now, add the pineapple slices and rolls to the grill, cook until the rolls are lightly toasted and the pineapple slices are caramelized and tender. Now, top each roll with chicken, pineapple, red onion and jalapeno slices and enjoy.
Classic Cobb Salad
The classic Cobb Salad is a quintessential American salad recipe that is extremely simple and easy to prepare and can be served for lunch, dinner or brunch. The combination of chicken breasts, bacon and eggs act as a wholesome source of high-quality lean proteins that increase satiety and promote calorie burn. Avocados provide some healthy fats to the recipe while lettuce and watercress act as potent sources of dietary fiber that contain zero calories.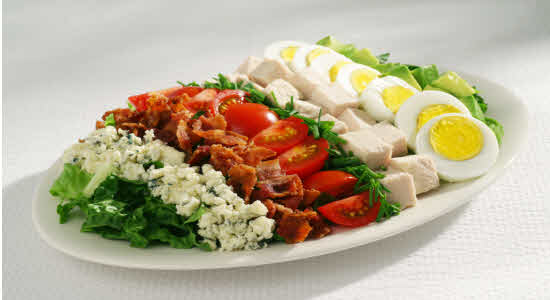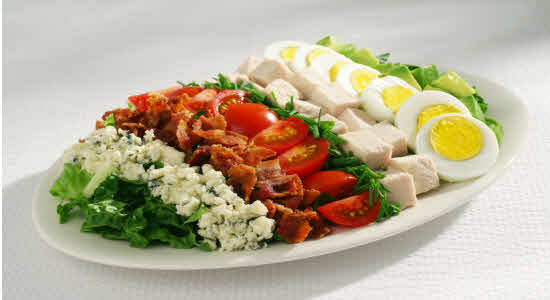 Ingredients:
1/2 head of romaine lettuce

1/2 head of Boston lettuce

1 small bunch of curly endive

1/2 bunch watercress

6 slices of bacon

2 ripe avocados

1 whole skinless, boneless chicken breast, halved, cooked and diced

1 tomato, seeded and finely chopped

2 hard-boiled eggs, separated, yolks and whites finely chopped

2 tablespoons chopped fresh chives

1/3 cup red-wine vinegar

1 to 2 teaspoon sugar

Salt and pepper to taste

2/3 cup olive oil
Procedure:
Wash the lettuce and watercress in water, pat dry and set aside. Fry the bacon slices in a skillet till they are crisp on both sides. Remove from the skillet and allow the bacon to cool. Crumble the bacon and keep aside. Chop the lettuce and watercress and put them into a large salad bowl. Now, arrange the chicken cubes, bacon, tomatoes and avocados over the lettuce and watercress bed and garnish with chopped eggs and chives. In a small ball mix the vinegar, mustard, salt, pepper and oil and whisk until all the ingredients are emulsified. Add sugar to taste, mix once more and toss it over the salad.
Black Bean Veggie Burgers
Burgers are one of the most popular American fast foods that can be enjoyed as a snack or as a quick meal. Although, most burger patties are made with minced meat or chicken, this is a vegetarian burger recipe in which the patties are prepared with black beans. Black beans are one of the best vegetarian sources of protein that aid the formation of lean muscle mass. Black beans also contain high amount of fiber that improves digestive function and increases satiety. Micro nutrients iron, calcium, potassium, zinc, magnesium, folate and phosphorus found in black beans make it a complete health food.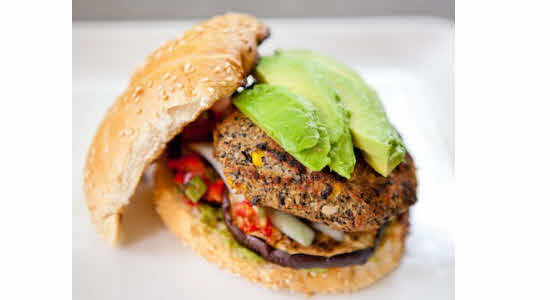 Ingredients:
1 cup cooked brown rice, cooked

1 cup raw walnuts

1/2 tablespoon grape seed or avocado oil

1/2 white onion

1 tablespoon each of chili powder, cumin powder and smoked paprika

1/2 teaspoon each of sea salt and black pepper

1 tablespoon

1 tablespoon coconut sugar

1.5 cups cooked black beans, well drained and dry

1/3 cup Panko bread crumbs

3 to 4 tablespoon BBQ sauce
Procedure:
Heat a skillet over medium heat and add the raw walnuts to it, toast for 5 minutes or till golden brown and let it cool. Now, add 1/2 tablespoon of oil and onion to the skillet, season with some salt and pepper and sauté for 3 to 4 minutes. Remove from heat and keep aside. Put the cooled walnuts into a blender along with chili powder, cumin, smoked paprika, salt, pepper and coconut sugar and blend to form a fine meal. In a large mixing bowl add the black beans and mash with a form. Next, add the cooked rice, walnut and spice mixture, sautéed onion, Panko bread crumbs, BBQ sauce and mix well for 1 to 2 minutes to form a dough. Divide the dough into 5 to 6 patties and set them on a baking sheet for grilling. Heat the grill and brush it with oil to facilitate cooking. Grill the patties till they are well browned and then remove from the grill. Serve the patties in between toasted buns with desired toppings.
Healthy Mac and Cheese
Melty and creamy Mac and cheese is America's favorite comfort food that can be prepared ina  jiffy and served for lunch or dinner. Using whole wheat macaroni instead of white flour macaroni helps to keep it low in calories and supplies some healthy complex carbs and fiber to the dish. Using butternut squash for the sauce helps to replace all-purpose flour and gives a nice creamy texture to the macaroni with minimal use of cheese and the best thing is that it does not interfere with the taste of the dish.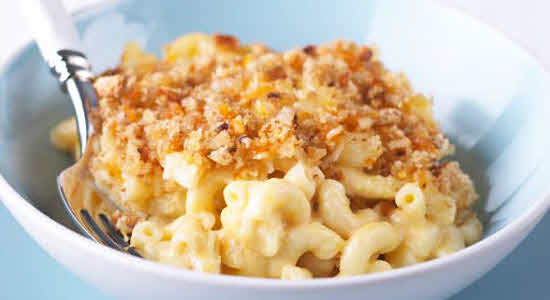 Ingredients:
2 cups uncooked elbow macaroni, whole wheat, low glycemic and gluten-free

1 tablespoon butter

1 small yellow onion

1 small butternut squash

5 cups chicken/vegetable broth

3/4 cup milk

1 teaspoon salt

2/3 cup shredded cheese

Parsley for topping

Salt and pepper to taste
Procedure:
Cook the macaroni as per direction on the package, drain excess water and set aside. Heat the butter in a large skillet over medium heat. Cut the onion into rings and add to the pan. Sauté for 15 to 20 minutes on low heat till the onions become fragrant and golden. Remove the skin and seeds from the squash, cut it into small cubes and set aside. Boil the broth and add the squash cubes to it. Cook for 5 to 7 minutes and until tender. Reserve 1/2 cup broth and drain the rest. Transfer the squash to a blender, add onions, milk, salt and the reserved broth and blend until the ingredients form a smooth puree. Pour the pureed sauce over the cooked macaroni and add shredded cheese from top. Stir it to melt the cheese and sprinkle salt, pepper and parsley from top.
Low-fat Cheesecake
Cheesecake is one of the most popular American desserts that consist of a layer of soft cheese over a curst or base make of crushed crackers. The use of fat-free cream cheese instead of full-fat cheese makes it one of the healthy dessert recipes that can be enjoyed even by health conscious people. This is one of the most versatile dessert recipes that can be flavored with strawberries, blueberries, lime or chocolate.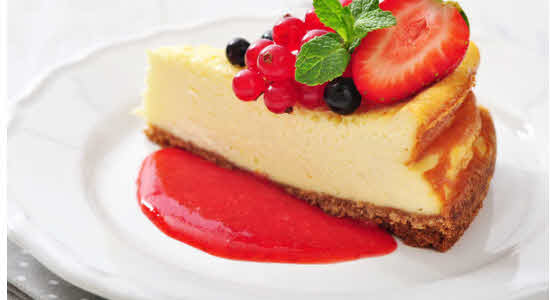 Ingredients:
9 whole low-fat graham crackers

2 tablespoons unsalted butter, melted

Cooking spray

2 8-ounce packs of fat-free cream cheese, softened

1.5 cups sugar

1 cup reduced-fat sour cream

2 large eggs

3 egg whites

2 tablespoons all-purpose flour

1 teaspoon vanilla extract

1 teaspoon grated lemon zest

Assorted toppings
Procedure:
Preheat the oven to 350 degree F. Grind the graham crackers in a food processor till they are crumbled. Add 2 tablespoons of water and butter to it and grind once again till the mixture is moistened. Now, wrap the outside of a spring foam pan with foil and coat the inside of the pan with cooking spray and press the crumbs to the bottom. Bake it for 8 minutes or until crowned. Let it cool. Beat the cream cheese and sugar in a mixer on medium-high speed for 5 minutes and then add the soup cream and beat on low speed. Now, whisk the egg whites in a bowl and add the cheese mixture along with the whole eggs, flour, vanilla and lemon zest. Beat on medium speed for 3 minutes or until fluffy. Pour the mixture over the crust and place the cheesecake in a roasting pan. Add enough water so that it reaches one-quarter of the way up the sides of the spring foam pan. Bake for 1 hour 10 minutes and then turn off the oven. Keep the cheesecake inside the oven for another 20 minutes. Remove the cake from the oven and place it on a rack and let it cool. Chill the cake for 8 hours and then add toppings as desired.
Chocolate Pudding
This is one of the easy dessert recipes that calls for a few basic ingredients and requires no baking. Chocolate pudding is a classic western dessert common to the U.S and Canada. Using coconut milk and maple syrup/honey instead of plain milk and sugar respectively helps to keep it low in calories and carbs. Using dark chocolate chips instead of milk chocolate chips also helps to increase the health quotient of the pudding.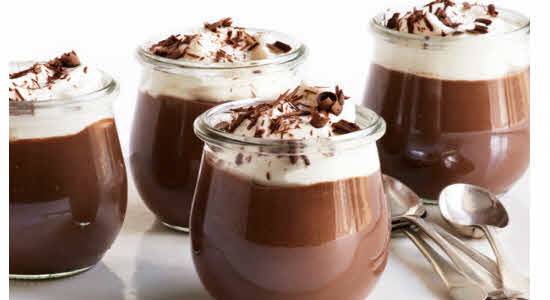 Ingredients:
2 cups milk/Canned coconut milk

1/8th teaspoon salt

1/4 cup Dutch cocoa powder

Pinch of stevia/1/4 cup pure maple syrup or honey

1/2 cup milk of choice with 3 tablespoons of cornstarch

3.5 oz chocolate chips

3/4 teaspoon pure vanilla extract
Procedure:
Heat 2 cups of milk in a sauce pan and add the salt, cocoa powder and sweetener of choice to it. Whisk the cornstarch in the other 1/2 cup of milk until dissolved. Next ass the cornstarch mixture to the heated milk and bring to a boil and stir continuously for 2 minutes. Lower to a simmer for 1 minute and then turn off the heat. Next, add the vanilla and chocolate chips to the mixture and transfer the pudding to a refrigerator. Let it sit overnight and serve in small cups or bowls.
Ultimate Healthy Pumpkin Pie
Spicy and flavorful Pumpkin pie is a delicious American dessert that is prepared suing fall and early winter and it is extremely popular in the United States. This healthy pumpkin pie recipe is one of the best weight loss desserts that make use of healthy ingredients such as whole wheat flour, non-fat milk, non-fat Greek yogurt and stevia to keep it low in calories and carbs and add some healthy complex carbs to the dish.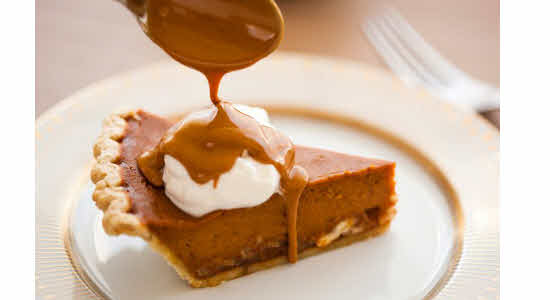 Ingredients:
For the crust –
1 cup whole wheat flour

1/2 teaspoon salt

4 tablespoons unsalted butter

2 teaspoon non-fat milk

1 teaspoon pure maple syrup

1/2 teaspoon apple cider vinegar

1-2 tablespoon ice cold water
For the filling-
15oz can pumpkin puree

1/4 cup plain no-fat Greek yogurt

120 ml non-fat milk

1 tablespoon cornstarch

1.5 teaspoon ground cinnamon

1/4 teaspoon ground nutmeg

1/4 teaspoon salt

1/4 teaspoon ground ginger

1/8 teaspoon black pepper

1/4 cup pure maple syrup

2 teaspoon vanilla extract

1/2 teaspoon stevia

3 large egg whites
Procedure:
To prepare the crust whisk the flour and salt in a bowl. Cut the butter into crumbs using a fork. Whisk together the milk and maple syrup and add it to the flour. Whisk together the vinegar and 1 teaspoon of water and add it to the flour. Mix all the added ingredients along with the flour and continue to add water till the mixture forms a dough. Place the dough at the center of a large sheet of plastic wrap and shape it to a 4" circle and cover it with another plastic wrap. Chill the dough for 30 minutes.
Now, to prepare the filling mix together the pumpkin puree and Greek yogurt in a large bowl. In another bowl mix the milk and cornstarch and add it to the pumpkin mixture. Next, add cinnamon, nutmeg, ginger, salt and pepper and stir until fully mixed. Now, add the maple syrup, vanilla and stevia and gradually add the egg whites.
Preheat the oven to 375 degree F, coat a pie plate with cooking spray. Roll out the dough into a 11" circle and place it on the pie plate. Gently press the dough into the pie plate and trim the overhang. Line the pie dough with foil and pour pie weights into the center. Bake the crust for 15 minutes and then carefully remove the pie weights and let the crust cool. Pour the filling into the center of the par baked crust and bake for another 30 to 40 minutes. Cool it to room temperature and then chill for 8 hours before serving.
Chocolate Brownies
Chocolate brownies make one of the delicious and simple dessert recipes that were developed in the United Stated during the end of the 19th century. This particular healthier version of the brownie makes one of the best diet desserts because it is exceptionally low in calories and loaded with health-benefitting ingredients. The use of whole wheat flour instead of all purpose flour helps to cut out the refined carbs from the dish.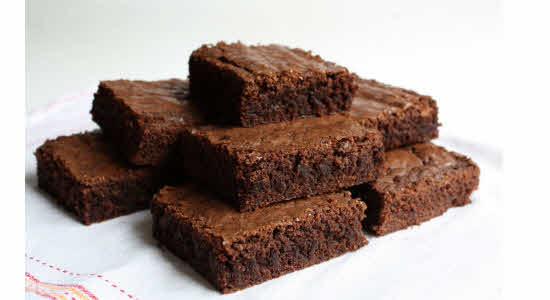 Ingredients:
1/4 cup butter

1/2 cup white sugar

2 eggs

1/3 cup applesauce

1 teaspoon vanilla extract

1/3 cup unsweetened cocoa powder

1/3 cup whole wheat flour

1/4 teaspoon salt

1/4 teaspoon baking powder

3 tablespoons butter, softened

3 tablespoons unsweetened cocoa powder

1 tablespoon honey

1 teaspoon vanilla extract

1/2 cup confectioner's sugar
Procedure
Preheat the oven to 350 degrees F. Grease and flour an 8-inch square pan. Melt the butter in a sauce pan over low heat. Remove from heat and add white sugar, eggs, applesauce and 1 teaspoon of vanilla extract to it. Beat in the cocoa powder, flour, salt and baking power. Spread the mixture on the pan. Bake it for 20 to 25 minutes or till the brownies are set in the center. Combine 3 tablespoons of butter, 2 tablespoons of cocoa powder, honey, 1 teaspoon of vanilla extract and confectioner's sugar in a bowl and pour it over the brownies while they are still warm.
Blueberry Muffins
Blueberry muffins are quick and easy dessert recipe that is enjoyed as an accompaniment with tea or as a snack. These blueberry muffins are one of the healthy dessert recipes for weight Loss that are contain the goodness of whole-wheat flour, rolled oats and blueberries. Both whole-wheat flour and oats add fiber and complex carbs to the recipe while blueberries act as a potent source of antioxidants, vitamins and minerals.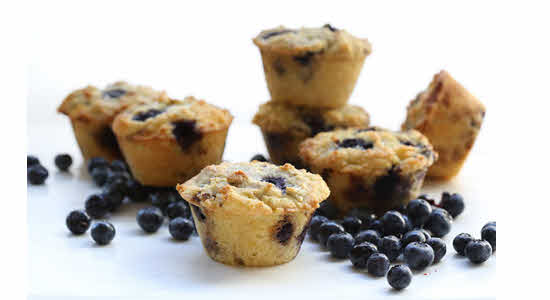 Ingredients:
1.5 cups + 1 tablespoon whole wheat flour

3/4 cup rolled oats

1/2 cup light brown sugar

1 tablespoon baking powder

1/2 teaspoon ground cinnamon

1/2 teaspoon kosher salt

1 cup + 2 tablespoons non-fat milk

1/4 cup unsalted butter, melted and cooled

2 large eggs

2 teaspoons pure vanilla extract

1 cup fresh/frozen blueberries
Procedure:
Place a rack in the oven and preheat to 400 degrees F. Coat a muffin tip with cooking spray and set aside. Add 1.5 cups of whole wheat flour, rolled oats, brown sugar, baking powder, cinnamon and salt in a large bowl. In another bowl mix together the milk, butter, eggs and vanilla. Now, add the wet ingredients mixture into the dry ingredients and mix carefully until blended. Now, add the blueberries with the remaining 1 tablespoon of flour and fold them into the batter. Divide the batter into the muffin cups and bake for 20 minutes or until the muffins turn golden brown. Remove the muffins from the oven and let them cool for 10 minutes.
So, bring about a few changes in the Standard American Diet with these healthy American recipes and replace the unhealthy ingredients with their healthier substitutes and enjoy a happy and disease-free life.
Image Credits: spectators.co.nz, foodnetwork.sndimg.com,mygardencut.com, theheritagecook.com, s3.amazonaws.com, foodnetwork.com